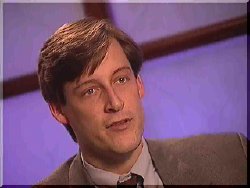 James Monroe

Associate Attorney
Finnegan, Henderson, Farabow, Garrett & Dunner
Washington, DC


B.S. - Chemical Engineering, Washington University
J.D. - George Washington University
Associate Attorney
"A lot of people, and I was one of them, blindly go to college and pursue a certain degree because they had to pick something when they were in high school. They don't stop and question themselves every year and say, 'Is this really what I want to be doing?' "


Q: What does a patent litigator do?


Monroe: I spend most of my day on projects to help enforce patents for clients. I step into the picture once a client has obtained a patent. I get involved in policing the market to make sure people aren't infringing their patent. If there is a company or an individual infringing their patent, then I assist the client in going to court and seeking some type of compensation or injunction from the court to prevent the infringement. I also help the client work with the alleged infringer to work out a settlement, such as a cross-licensing agreement. That's one aspect of what I do from the day-to-day as a patent litigator. The other side is helping accused infringers explain why they're not infringing someone's patent, going to court and representing them, and trying to convince the courts that what they're doing is completely legal and should not be punished or stopped.



Q: Are the cases that you work on all related to the chemical or engineering field?


Monroe: I have been involved in cases from semiconductor devices, to pharmaceuticals, to conventional chemical engineering processes. In all of those cases though, there was a prevailing use of my technological background. I use my education in chemistry in almost all of the cases I've been involved in. I think the most common use of my background is chemistry, because no matter what I've been involved in, from semiconductor devices to pharmaceuticals, it has had some chemical slant to it.



Q: What would you say the parallels are between chemical engineering and being a lawyer?


Monroe: I think they're very similar, and from my personal experience, the engineers who were going into patent law were some of the better students and had it much easier in law school than the non-engineers. The reason is, you learn as a chemical engineer to be a problem-solver, think through things, and look for answers. In law school, that's basically all you do. You look at a set of variables and try to figure out how it all fits together and come up with an answer. My experience from law school was that chemical engineers, and other engineers in general, have a better grasp of the problem-solving concept.



Q: What route have you taken on your career path to this point?


Monroe: I think that if you talk to most patent attorneys, they will say that they never planned to become one. It was happenstance. People don't think, when they're in high school, that they're going to become a patent attorney, because they don't know about it. Only children of patent attorneys think about it. I was studying chemical engineering at Washington University in St. Louis and realized about halfway through my junior year that I really didn't want to be a conventional engineer. I wanted to go into something more business- or marketing-related, something besides just conventional engineering. So I did research, and it was hard to find out about alternative career paths. At the time, I just happened to be doing part-time work for a dean at the law school. One day she mentioned patent law. It stuck in my mind, so I started writing to people. I used the Martindale-Hubbell, which is the directory for all attorneys, and found those who had graduated from my school and had become patent attorneys in Washington, D.C. I wrote to some of them and said who I was, what I was thinking of doing, and asked for advice. It was remarkable that about 80% of the people wrote back to me and gave me real advice, which really shocked me, but I think it reflects the patent community, which is small. Almost all of them said if you can do it, come to Washington, D.C., where the patent office is located, and try to get a job there, and then go to one of the schools there. So I took their advice and came here, attended George Washington University, got a job at the Patent Office, discovered what patents were really all about, and that I had found something I like. I then came here to the firm I'm at now and started doing patent prosecution. About two years after I became an attorney, I left the firm to clerk at the U.S. Court of Appeals for the Federal Circuit, which is the patent appeals court in Washington, D.C. I took a sabbatical and went there for two years and clerked for a judge who was one of the authors of today's patent laws. I then came back to the firm and began litigating. Since I returned, I do primarily litigation. I also do some opinion work, just counseling clients on what they're doing, whether or not they're infringing anyone's patents. I also do a small amount of patent prosecution for the Patent Office.



Q: What advice would you offer to someone interested in becoming a patent lawyer?


Monroe: If students are interested in being involved in patent law and wanted to test the waters to see if this was something they wanted to do for a career, I would suggest that they contact a patent attorney and see about doing a summer internship, or getting a part-time job while they're an undergraduate. I think students should feel confident enough to contact patent attorneys by looking them up in the Martindale-Hubbell. They should feel confident to contact the attorneys and ask them directly for help, because it's a very small and helpful community. As far as coursework, I think it's very important that engineering students, and students in the sciences in general, not overlook writing skills. Too often, engineering programs let you get by with taking one English course and then one technical-writing course. I think it's very important, especially if students want to go into patent law eventually, to focus on their writing skills and take as many writing courses as they can so they can become persuasive writers. I think that applies regardless of whether they intend to go into patent law. I have friends who are engineers who discovered, when they got out of college and began to be practicing engineers, that there was a lot of report-writing and summarizing of what they did on a day-to-day basis.