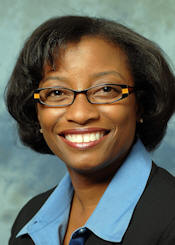 Tracy Lynn Hamilton, PMP

SQA (System Quality Assurance) Director
Texas Instruments
Education Technology
Dallas, TX

B.S.E.E., Southern University and A&M; Baton Rouge, LA; US
M.S.C.E. University of Colorado-Denver; Denver, CO; US
Certifications: PMI Certified
Tracy's team is responsible for the stability, durability and overall quality of the TI's Education Technology product family.
"Donít be afraid to take the more difficult math and science courses like Calculus and Physics. Challenge yourselves, be confident in your skills, and fly alone if you must."


Q: When did you know you wanted to become an Engineer?


Hamilton: I've wanted to be an engineer since Middle School. Math and Science were subjects that came easily to me. I enjoyed being in the lab, tinkering and trying to understand how the pieces came together. Initially, I wanted to be a Chemical Engineer, but later decided to major in Electrical Engineering. I thought it would offer more versatility.



Q: What was your college experience like?


Hamilton: My college experience was amazing. Being in a circle of diverse and gifted people definitely makes you set higher goals. We studied together, tutored together, and encouraged each other. We even worked at the same companies in various summer programs. Itís important to have a circle of people who are supportive in your goals. When you think you canít go further, they are there to say "Yes, you can!"



Q: Did you incorporate work experiences while you were an undergrad?


Hamilton: Yes. As an undergrad student, I worked one summer at General Motors and another at Texas Instruments. At General Motors, I worked for the Saturn group. We were responsible for building the concept car, before the Tennessee plant was completed and before the Saturn line was available to the market. As a Texas Instruments Scholar, I worked in the defense area. The groupís primary focus was heat detection.



Q: How did you get your first job?


Hamilton: As an Electrical Engineer, several opportunities were available in different industries. I interviewed with several companies, including Allison Transmissions, Delco Electronics, and AT&T Bell Labs. Each company had very different objectives and priorities. One of the primary benefits I found as an engineer is basic skills can be applicable in any industry, regardless of the specialized area.



Q: What's the most rewarding thing about doing the work you do?


Hamilton: I currently work in TI's Education Technology organization. Many people recognize us as the group that builds TI calculators. I have the opportunity to work with Math and Science educators, as well as, interact with students. Observing a classroom and seeing the students engage in Math & Science through technology has been very rewarding.

Q: Is there an example you can provide that shows how something you've worked on has positively impacted the world?


Hamilton: TIís Education Technology organization positively impacts the world every day. Our products support 14 languages and are used around the world as a tool to excite, yet teach students the wonders of Math and Science. Our passion is in helping educators support their studentsí dreams.



Q: Do you spend a fair amount of time traveling?


Hamilton: My job requires me to travel about once every 2-3 months. These trips have allowed me to visit many cities within the US and to also experience countries such as France, Germany, India, and Mexico.



Q: Do you have a mentor? Or did you in your college years? Was this helpful to you?


Hamilton: I donít have an official mentor, but I consider many of the people Iíve worked with and for to be mentors. Just as friends fulfill different areas in your life, I believe co-workers and managers have different purposes in helping my professional development. These relationships have all had positive impacts in helping me to set goals, being a better communicator, and opening doors that may have otherwise been closed to me.



Q: Do you find yourself working more in a team situation, or more alone?


Hamilton: It really depends on the type of project and the stage of project execution. I am a manager but I often roll up my sleeves and support the team during the execution part of the program.



Q: Do you find you are able to balance work with social/family life while working in your current job?


Hamilton: Yes. This is not something I felt was possible in my early career. When I first started working, much of my energy was put into work, everything else was secondary. With experience and professional maturity, you learn when and how to let one take priority over the other.



Q: If you had to do it all over again, would you earn the degree you did? Why?


Hamilton: Yes. Degrees in Electrical Engineering and Computer Engineering (Artificial Intelligence) have allowed me to work in different industries and be involved in many types of work. I have experience from hardware and firmware design to software development to process definition to project management. Not many professions would offer such a range of opportunity.



Q: If you had to do it all over again, would you be doing the same work you are doing? Why?


Hamilton: Would I still be an engineer? ABSOLUTELY! After being in the workplace for 20+ years, I still like to spend time in the lab. Even now, I get a thrill from figuring out how something was designed and built, and seeing it work in the real world.



Q: Did you think that your education prepared you for the way the work gets done in the real world?


Hamilton: Education gives you the knowledge to succeed in a specific area, but it also provides an opportunity to develop professional skills. Education teaches you urgency, how to interact with people, how to organize your thoughts and effectively communicate, and how to strategize. During college, you donít realize that you are learning these things. As you step into the real world, soft-skills are used daily and are just as important as the skills learned through a degree program.



Q: Where do you see jobs in the future for those interested in science, technology, engineering, mathematics, or medicine (STEM)?


Hamilton: There are so many opportunities. When I was in college, subjects like environmental science and musical therapy did not exist. With the advancement of technology and the miracles of medicine, the future is bright. There are even programs which offer dual-degrees in unexpected areas like music and medicine. Anything that one can dream can be achieved through a STEM offering.



Q: What should middle and high school students be doing to prepare themselves to take on STEM careers?


Hamilton: Donít be afraid to take the more difficult math and science courses like Calculus and Physics. Challenge yourselves, be confident in your skills, and fly alone if you must. There may not always be someone who looks like you in the class but maybe youíll be a role model for someone else. Find an educator or counselor whom youíre comfortable with.



Q: How important is mathematics to the work you do?


Hamilton: Mathematics is very important to the work I do. Our Education Technology group has a group of highly trained mathematicians who ensure that everything we do is highly accurate. Since we build calculators, it doesnít matter if the user is doing basic math, trigonometry, geometry, etc, the answer our products provide much be correct, each and every time.



Q: What advice do you have for teachers or counselors who are assisting students who are interested in STEM career?


Hamilton: Encourage, encourage, encourage. STEM courses and careers take a lot of time and focus. Students will be tempted by peer pressure and will sometimes want to give up. Let them know you have high expectations and that you believe in them. We all tend to push the envelope when we know someone is watching. And hopefully they will also push themselves when they think no one is looking.