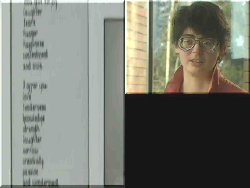 Marissa Martinez

Lead Program Manager
Microsoft Corporation
Redmond, WA


| | |
| --- | --- |
| | B.S. - Humanities and Engineering, MIT |
| | Group Manager of Internet Advertising Technologies, working in product development providing strategic direction to a group that designs, develops, tests, and releases products. |
| | "Don't take it easy in you junior and senior year in high school and stop taking the math or sciences because they're not required after a certain point. Even if you decide not to go into some sort of pure math or science, those classes give you a wider range of opportunities when you are applying to colleges or even just going out into the workforce. I don't think a lot of students always understand how early in their school life they start limiting their choices and how those limits affect their future." |


Martinez: "So, my future goals are to retire at age 45, which is probably about eight years away that I feel like I've contributed to the engineering profession, you know, in a very positive way, that I've also contributed to my co-workers, to other people that I've met and that now I want to try to do some things for myself and my family. So actually the other part of my life has been writing, that my degree is in humanities and engineering so the other part is writing. And I've actually been a poet since I was, well, since I can remember really. And I've certainly kept up with it so I've been doing readings and I've been published in journals. I have a book that I've co-edited that's coming out this fall so I've still kept with it and what I'd like to do is go into that full time and then use the engineering experience that I've gained to work really a lot more intensely with kids of color and girls to try to encourage them to go into engineering."


Marissa Martinez of Microsoft Corporation is both an engineer and a poet. As a lead program manager, she is responsible for two aspects of the product development cycle. Program managers, she explains, "are responsible for the overall product design what the product is going to look like, how it interacts with the user and for the project management. So they have to coordinate the efforts of the development team, the testing, any sort of documentation that goes along with the product and make sure that everybody comes together at the end when we're supposed to ship the product."

As a poet, Martinez has published in journals and does readings. She has also co-edited a book of poetry. She plans to retire early from engineering to dedicate part of her life to her writing and to working with children of color and girls.

Even now, Martinez gives time to young adults who are not ordinarily encouraged to go into math and science. "One of the things that I do quite frequently is talk to kids primarily kids in middle school or even in high school and I actually try to do events where I'm talking with either girls or kids of color. I find that they don't often have role models who are in an engineering field that they can look at and say, 'Wow, I can do that too.'" She advises kids not to "take it easy in their junior and senior years and stop taking the math or sciences because they're not required after a certain point. Even if they decide not to go into some sort of pure math or science, those classes give them a wider range of opportunities when they are applying to colleges or even just going out into the workforce. I don't think a lot of students always understand how early in their school life they start limiting their choices" and how those limits affect their future.

Another piece of advice Martinez gives young adults is to find a mentor. "A lot of adults ignore or don't encourage someone who seems to be outside the bounds of what is expected, and a lot of times kids of color who are really interested in math and science fall into that category because it's unexpected more so that it's unusual. So I always try to tell them to find somebody who really believes in them that will encourage them." And she tells kids to be persistent. "If they go to an adult and the adult isn't that person, they should go and find another one. There must be somebody that you can find that's going to help you, that's going to be able to give you the information that you need, or give you some counseling, or give you some direction on those things that are important to you."