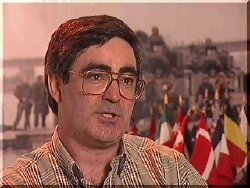 Jose Ibanez

Senior Mechanical
Engineer
United Defense / FMC
Corporation
San Jose, CA


BS, Mechanical Engineering, San Jose State University
AS, Engineering, Foothill Community College
Senior Mechanical Engineer, working in a product realization group that includes structural design, stress analysis, materials, armor systems, and prototype development of military vehicles.
As a recruiter, Jose looks for grades, work experience, and capacity for teamwork. Once on the job, he feels that an engineer needs skills in computer, problem solving, and teamwork, along with an ability to cope with change.
"Seek informational interviews with engineers in order to learn first-hand about their jobs. Also, written communications and verbal communications are very important. Any effort put to develop those skills will always be good."


Ibanez: "For me, my family is very important. When I have to work overtime, I'll work it. But at the end of the day going home and being with my wife is very important to set time aside just for the family, as well as for myself. Whether it's reading a good book or going for a hike or -- you need time for yourself. It's important to re-charge your batteries and not dedicate yourself fully to work."

Ibanez: "Don't be afraid to call a company that you're interested in and say I want an informational interview to talk to some of the engineers about they work they do, so you can have first hand knowledge of whether or not you're interested in doing that work or working for that company. One of the reasons why I like this company as a mechanical engineer is because there are many, many departments, different specialties such as suspension, power, transmission, structures. There are many opportunities to move around and not do the same job for more than a year or two."

Ibanez: "We have new technologies coming in all the time. Now we're trying to implement the use of titanium. Titanium has been widely used in aerospace. Now we're trying to make use of it in our vehicles and so we do have to learn constantly new materials, new ways, better ways to make a better, lighter, stronger, more effective vehicle."

Ibanez: "I think about it, that I might lose the job, but I've never been really concerned. I know that being in a technical field, unemployment is very low. And I have the skills to find other jobs. So I was never concerned of losing my job. I know some people fear that. Or have fears of losing the job; they have family, children and mortgages. Stay ahead of yourself. Have developed the skills required and apply yourself; that's the best thing you can do."

Q: Talk about the challenges of having seven or eight different supervisors.


Ibanez: You have to adjust to your supervisor's working habits and coping with their ways, understanding how they work; it's important, and the ability to adjust and do your job well. And I've been very happy with all of the supervisors that I've had. Each one of them has had a different personality and different ways that they work. And you have to adjust quickly to their ways so that you can do your work effectively and quickly.



Q: Is the life of a mechanical engineer a life of adjustment?


Ibanez: Not as much as, perhaps, in the electronics world. But yes, we have new technologies coming in all the time. Now we're trying to implement the use of titanium. Titanium has been widely used in avionics. Now we're trying to make use of it in our vehicles and so we have to learn constantly; new materials, new ways, better ways to make a better, lighter, stronger, more effective vehicle.



Q: What's it like working for a company that's so heavily into defense contracts?


Ibanez: The most challenging aspect of it now is the downturn in spending -- reduced budgets in defense. Not knowing for sure. But of course, this is something that just about everybody else in the industry has to worry about; making sure the products are selling and doing well. So, now we're just basically becoming more like the rest of the industry. We have to worry about planning and making sure that we can do an effective good job of providing good products that will sell into the future, 10, 20, 50 years from now. That's been the biggest challenge. The criticism of people in the community that say, "Hey, we don't need to build weapons, we want to build schools and build freeways," and so on. So you always have to deal with that type of a situation.



Q: The reduced budget, how does that affect your life as a mechanical engineer?


Ibanez: Basically, with the reduced budget now, instead of working on one or two bigger projects, now we have to work on 10, 15, 20 smaller projects. So, instead of working full time on one project, you have to do three or four projects at a time, which is what I'm doing right now. And so, you have to have two different bosses. You have to serve two masters; working on the project for this master and a different project for another master, and juggle everything all at once. But, it gives you the skills and abilities to work with different people and different projects at the same time, which I feel is very important. I remember a mechanical engineer who could only focus on one project at a time. And several of us will come to him and say, "Hey, I have something for you," and it was, "No, no, no. Until I finish this, I don't want to hear about anything else." And that's narrow-minded. You have to have an open mind and make sure that you can work on different things at the same time. It's a very useful and a good thing to do.



Q: Talk about your undergraduate preparation and what do you still use? And also, what did school not prepare you for? Both of those.


Ibanez: Some of the weaknesses going through mechanical engineering school, I feel, were -- at the time that I went through school -- geometric dimension and tolerance, and preparing drawings, that was a weakness. I think that when I came into the work environment, that was something which is a very common language used by all engineers to communicate with the shop -- and how to build the component or a part. And I think that was a weakness that I would have liked to have had more classes in -- or more opportunity to develop a language of making drawings. Especially for an entry-level type engineer, it was a little bit difficult in the beginning. But in general, we worked in teams on projects and labs, and so working in groups --which is something that you have to do in the work environment -- that was covered in school, by working in projects.



Q: Have you used your French or your Spanish in any company projects?


Ibanez: Yes. Being from Spain, I know the language fluently. And there have been different opportunities here at the company to translate for them, official documents as well as meetings, high-level meetings, doing business with foreign nations. And I found that rewarding and very interesting. It was almost like a spy-novel type thing where somebody has a secret and they want to do business with you and I'm there translating in the middle of it. And it was very exciting. Long days, from early in the morning until late at night. But it was very enjoyable. I liked using the knowledge of my language to help the company do business abroad.



Q: With what countries does the company do business, or has the company done business?


Ibanez: We do business with just about every country -- almost every country. We do business with Japan, business with Saudi Arabia, with Israel. Our main headquarters office in Europe is in Belgium. But that's for Defense UNINTEL. Also, FMC has chemicals and pesticides, oil-drilling equipment and food machinery -- harvesters and so on. And we have FMC products in just about every country in the world. It's not difficult to transfer from division to division.

Download Full Profile as PDF