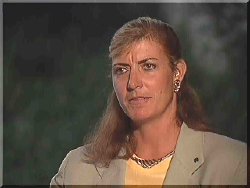 Kathryn A. Ingle

Consulting Engineer
KT Enterprises
Kure Beach, NC



| | |
| --- | --- |
| | BS, Mechanical Engineering, Catholic University of America |
| | Consulting Engineer, dealing with manufacturing systems, logistics, and procurement issues; systems integration and training. |
| | Kate previously worked in government agencies involved in manufacturing, shipbuilding, and procurement for the U.S. Navy. When downsizing came, she seized the opportunity to start her own business. She stresses the importance of keeping flexible, looking ahead, and networking with other professionals. |
| | "I think every engineering student should fail at least one class, because generally we were the ones who got the A's and B's in math and science, particularly in high school, and so the experience of absolutely failing in something that is our technical interest, is something very humbling. Basically, too, if you're a freshman or sophomore, "sticking it out" is the most important. I didn't get to the interesting classes until junior and senior year, and I really loved it." |


Ingle: "One of the biggest issues I've seen with women is that a lot of times we feel that we need permission to be where we are, instead of expecting to be where we are. I walk into a meeting because my skills are required by the people who are having the meeting. Or if I'm chairing a meeting, then I need these other people to give me that input. And so in some cases, we're our own worst enemies by asking other people to provide us what we should be providing for ourselves. Well, just recently I've realized that over my career, I've spent a lot of time looking at the mistakes, instead of looking at the accomplishments. The mistakes constitute this portion, whereas the accomplishments often go this way, and we women, in particular, focus on the mistakes."

Ingle: "If you're a freshman or sophomore, "sticking it out" is the most important. I didn't get to the interesting classes until junior and senior year, and I really loved it. The education for me was getting pieces of the engineering puzzle to work together. How the second law of thermodynamics affects the production systems that I was working on, on a daily basis. It was more, for me, integrating all the different parts. And I also knew that in the real world I would be fine."

Ingle: "I learn best from watching other people, and I try and pick the people that are doing what I need to follow in their track, or find somebody I know who's really good in a particular area and get them to do some coaching. But, a lot of the formal education is coming from distance-learning programs and short courses."

Q: So, in the type of jobs you took, you always had to have an eye toward what you were going to do in the program? Was there any security?


Ingle: Long-term security, in that they somehow always find projects. But short-term, no. There was no ability to direct your career. There was no ability to pick which projects, unless your friends were helping you. And it was very difficult to have some consistency. At one point, I was on a small project and ended up being a LAN administrator for six months. I then went into a communications project and then came back out and worked the shipyards again. So, in some ways it was really good because you'd see a lot of different kinds of equipment and projects, the kinds of skills that you need on different things.



Q: Is there anything you would have done differently, when you think about it?


Ingle: Yes. I had a lot of difficulty with my second job because I had been doing an engineering-ethics conference that was coming up and my boss had asked that I do two things that were illegal at the time. I went to the corporate-ethics officer and, apparently, he got the corporate "finger-slapping" for one of them. I was only there three months, he was there 40 years -- and he spent the next year basically trying to "deep-six" my career by giving me projects that were destined to fail or had the worst people to work with or whatever, and I really believe that I should have left there earlier. But we often get into a situation where we have just bought a house or we have children to feed and mortgages to pay and it doesn't become reasonable, and I realize now after 6-1/2 years, how unhappy I was at various points and should have left much earlier.



Q: What was your last year of education?


Ingle: Well, I started some master's work in engineering management, partly because it kept me in the engineering and it had a lot of the business. But I found that as I took the classes that it was teaching me more to be the "good corporate manager," and from my perspective in business, I really would prefer to be the owner, the director, as opposed to just a middle manager somewhere along the line.



Q: So do you think continuing education is important?


Ingle: Oh, very much. Very much so, but in today's world a lot of it will be at local university courses and public speaking. You get your education in a lot of different ways. I learn best from watching other people, and I try and pick the people that are doing what I need to follow in their track, or find somebody I know who's really good in a particular area and get them to do some coaching. But, a lot of the formal education is coming from distance-learning programs and short courses. A lot of the long-term programs don't really give you a tremendous amount of benefit, outside of "getting that ticket punched" to get to the next point in your career path.

Q: So what is a typical day like? Or there isn't a typical thing?


Ingle: No, no. There's no typical day, and if it starts to get typical, I think I'd probably get very bored. But there's an awful lot of customer interface, a lot of working with the customer. I can do a lot of the work -- sending copies of contracts, documents, etc. -- over the Internet. But when you go to do things, you really still need that face-to-face presence, and people need to be assured that you are there, as opposed to just a voice on the box. So I think that's very important, that they need to see you in person. So the customer service end of it is very time-consuming.

Q: So when you just decided to start your own company, where did you first go to find clients?


Ingle: Well, we're working on the marketing plan. A lot of it is through the people that I've known in the work projects and the meetings I've been to lately; three days of having meetings. I know people all over the country and all over the globe in the maritime shipping business, both naval and commercial, plus all my mechanical engineering friends from around the world, through ASME. And I think a lot of that will be where it comes from in the near future.



Q: So would you say being part of a professional organization has helped you?


Ingle: Oh, tremendously. In this case, because in a company you're not allowed to do a position until you've already been in that position for a while, and so it gave me the opportunity to do a lot of the kinds of things that I knew I was capable of, that I would never get assigned to at my age and point in career, within my company. The best experience, by far, has been being an intern on the Board of Governors, under the leadership development program. There's an opening right now on the Knoxville Utilities Board of Directors, and I think that my experience, with my technical background, qualifies me to at least apply for that job, which under normal circumstances a person at my point in career would never be able to do. And to have that large-scale vision of an international organization with a multi-million-dollar budget, and managing the needs of the membership around the world, is something that has given me a view of the world my peers will never get.

Download Full Profile as PDF