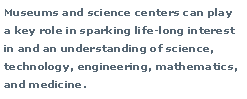 What Museums and Science Centers Offer
Many museums have broad, updated resources that some schools do not have. They often also offer informal, interactive activities that complement local course curriculum. They offer a non-threatening, friendly environment where adults and students can explore without fear of being wrong, or admitting what they don't know.
Some museums and science centers also offer weekend or summer programs for precollege students, and some also offer programs for teachers, including lesson plans and activities for use in the classroom. Many offer hands on experiences for exploring science, mathematics, engineering, computing, healthcare, and medicine or health applications. The following are some examples in Florida -- be sure to see what resources they have for you!
Florida Museums and Science Centers

Astronaut Memorial Planetarium & Observatory


Cade Museum Foundation


Challenger Learning Center of Tallahassee


Charlotte County Historical Center


Children's Science Explorium


Discovery Center, Ocala


Emerald Coast Science Center


Fairchild Tropical Botanic Garden


Florida Museum of Natural History


G.WIZ - The Science Museum


The Gillespie Museum


Great Explorations Children's Museum


Imaginarium Hands-On Museum & Aquarium


Kennedy Space Center


Loggerhead Marinelife Center


The Mary Brogan Museum of Art and Science


Miami Science Museum


MOSI (Museum of Science & Industry)


Museum of Arts and Sciences


Museum of Discovery and Science


Museum of Science & History of Jacksonville, Inc.


Orlando Science Center


Sandoway House Nature Center


Science Center of Pinellas County, Inc.


South Florida Museum, Parker Manatee Aquarium, and Bishop Planetarium


South Florida Science Museum, Inc.