The Career Cornerstone Center provides this page to support girls and women who are interested in exploring career paths in science, technology, engineering, mathematics, computing, and healthcare. Here you'll find ideas for networking, exploring STEM via summer projects, scouting, and teacher resources.

Precollege Programs
Many universities have special programs for girls at the high school level, including the following:
- Massachusetts Institute of Technology's Women Technology Program is a four-week summer academic and residential experience where female high school students explore engineering through hands-on classes, labs, and team-based projects in the summer after their junior year.
- KU Society of Women Engineers Weekend of Engineering is an opportunity for high school women to experience engineering activities and information sessions and take place in October and February.

Girl Scout Programs

Girl Scouts introduces girls of every age to science, technology, engineering, and math (STEM) activities that are relevant to everyday life. Whether they're discovering how a car's engine runs, becoming math whizzes, or learning about careers in STEM fields, girls are moving forward into the future. They can host science fairs, design websites, plan for space exploration, visit geological sites, and more. One of their latest programs is "Lighten Up!" which is a guide shows girls how optics concepts relate to current research and why optics is so important in everyday life.

Mentoring Opportunities
Some universities and companies have established mentoring programs to link students with professionals. An example is the University of Notre Dame's Minority Engineering Program, which offers E-mentoring support to students.

Summer Programs

Summer programs are great opportunities for students to explore different career fields. There are also several focused specifically for precollege girls interested in engineering, including the following:
- Engineer Girl
- Georgia Institute of Technology TEC Camp (Technology, Engineering & Computing) for Middle School Girls
- Kansas State University - Girls Researching Our World
- University of Kansas Project Discovery
- Summer Days Math and Science Camp for Girls
- University of Illinois at Urbana-Champaign
Girls' Adventures in Mathematics, Engineering, and Science
- University of Nebraska-Lincoln - All Girls All Math Camp
- Girls Exploring Math Camp (Embry-Riddle Aeronautical University)

Scholarship Opportunities
Many universities have scholarship programs specifically for high achieving high school girls. Be sure to check with universities you are considering about what services, programs, materials, scholarships, and events they sponsor. Some professional societies also offer or help coordinate scholarship programs for women, such as the Society of Women Engineers. Some companies also offer scholarship programs for women, such as the Talbots Women's Scholarship Fund. Other scholarships can be searched on the College Board website.

Professional Association Support
Several special focus professional associations have developed to help serve the needs of our diverse workforce. Many of these groups also have student chapters, which can help form valuable networking opportunities at an early age. For example, the Society of Women Engineers offer a precollege site with resources for precollege girls.
The following is a sampling of organizations that support women; a full list is available on the Cornerstone association page:

Teacher Resources

There are other publications and resources that are also specifically designed to encourage girls and support women, including
Girls In Engineering - PDF book which makes recommendations on how science and engineering should be taught so as to increase the number of women and minorities in the scientific and engineering workforce.

University Resources
Many universities offer special programs to support both precollege girls and university women who are interested in science, engineering, technology, and medicine. For example, the Women in Science and Engineering program at the University of Michigan was established to provide support to girls and women, as was the Women in Engineering Program at Purdue University. Check with your local university to find out what resources they may offer, including special events, summer programs, Saturday workshops, and other resources for girls and women. The following is recent data from ASEE (American Society for Engineering Education) showing engineering gender breakdown for those earning bachelor degrees in engineering over the past several years:
Engineering
Bachelor's Degrees
2001
2002
2003
2004
2005
2006
Total Bachelor's Degrees
64,200
66,781
71,165
72,893
73,602
74,186
Female
19.9%
20.9%
20.4%
20.3%
19.5%
19.5%
Male
80.1%
79.1%
79.6%
79.7%
80.5%
80.5%

What the Research Says
According to a 2007 report by the Commission on Professionals in Science and Technology, women have made substantial progress in preparing for careers in science and engineering (S&E), earning half (50%) of the bachelor's degrees, 44% of the master's and 37% of the doctorates awarded in S&E fields in 2005.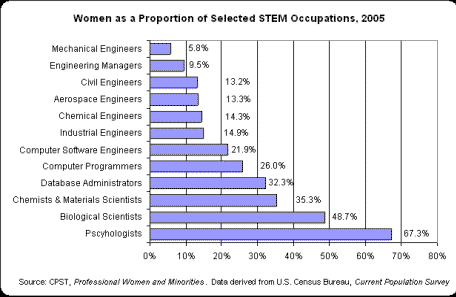 Further, recent data from the American Society for Engineering Engineering provides ethnicity and gender information about the 74,186 engineering Bachelor's Degrees awarded in 2006:
- African American Male = 2,357
- African American Female = 1,021

- Asian American Male = 7,070
- Asian American Female = 2,328

- Hispanic Male = 3,878
- Hispanic Female = 1,209

- Native American Male = 278
- Native American Female = 82

- Caucasian Male = 37,629
- Caucasian Female = 7,607

- Foreign National Male = 4,162
- Foreign National Female = 1,198

- Other Male = 4,350
- Other Female = 1,017

- Total Male = 59,724
- Total Female = 14,462

Career Cornerstone Center Profile Excerpts
The following excerpts from Cornerstone profiles address the issues of careers for women:

Beth Lemen
Site Operations Manager, P&G Pharmaceuticals
Procter & Gamble
Cincinnati, OH
"In college, I did find it difficult as a woman, because it was primarily male-oriented, and most of the people in my classes tended to clump together in groups. You know, four guys would work on a project; three guys would work on a project. And it was rare, for whatever reason, that you had a real mixed group. So, it was difficult in school. Coming into the work place, I have found credibility to be a bit of an issue. Even though you've got your engineering degree, you're still a woman. And the company I work believes in diversity and values everyone's background and everyone's view. So, being a woman engineer, I have not felt that my skills have been overlooked in the workplace. I worked very closely with a male engineer, in one of my roles, and he would seek me out for advice and to work on other projects with him, because he knew I had technically sound ideas, that I knew what I was talking about, and that I could work well with people on projects."


Download Full Profile as PDF

View Full Profile Online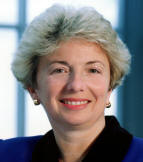 Deborah Grubbe
Vice President – Group Safety
BP, p.l.c.
London, England, United Kingdom
"I believe the experience women have as chemical engineers is greatly determined by their mindset. I have found that people will treat you with respect if you behave in a manner that calls for respect."


Download Full Profile as PDF

View Full Profile Online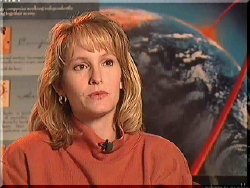 Lori Laird
Biomedical Engineer
Guidant Corporation
Santa Clara, CA
"To the women engineers, I just want to say, Stick with it. It's going to be challenging, it's going to be hard, but there are other people out there that have done it. I meet women that are 62 and were engineers way back when. And gosh, I think if I had to do it back then, it would be much harder. I think the world is really opening up to women in engineering. And it can be done. And I just encourage them to stick with it."


Download Full Profile as PDF

View Full Profile Online