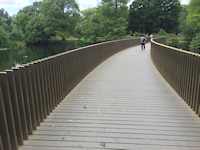 Architectural engineers apply engineering principles to the construction, planning, and design of buildings and other structures. They often work with other engineers and with architects, who focus on function layout or aesthetics of building projects. Architectural Engineering often encompasses elements of other engineering disciplines, including mechanical, electrical, fire protection, and others.
Architectural engineers are responsible for the different systems within a building, structure, or complex.
Architectural engineers focus several areas, including:
the structural integrity of buildings to anticipate earthquakes, vibrations and wind loads,
the design and analysis of heating, ventilating and air conditioning systems,
efficiency and design of plumbing, fire protection and electrical systems,
acoustic and lighting planning, and
energy conservation issues.
Architectural Engineering Resources
Online
Overview:
Overview of Architectural Engineering
Preparation:
Admission Requirements, Courses of Study, Coops, Accredited Programs
Day in the Life:
Teams and Coworkers, Tasks, the Workplace
Earnings:
Employer Options, Salary Ranges, Types of Employers
Employment:
Statistics, Industries, Employers
Career Path Forecast:
Predictions
Professional Organizations:
Resources, Networking, Support
Internet Resources:


Architectural Engineering Institute of the American Society of Civil Engineers


Greener Buildings
Note: Some resources in this section are provided by the US Department of Labor, Bureau of Labor Statistics.